New periodicals and full text offerings in RIPM
New Publications, January 2012
In January 2012, RIPM will add 8 new titles to the Annotated Index to Music Periodicals database, 5 new titles to the Online Archive of Music Periodicals, and 2 new titles to the RIPM In-Print series.
RIPM RETROSPECTIVE INDEX TO MUSIC PERIODICALS (Online)
Wöchentliche Nachrichten und Anmerkungen die Musik betreffend (Leipzig, 1766-1770)
Boston Musical Gazette (Boston, 1838-1839)
The New Music Review and Church Music Review (New York, 1901-1918, first half)
Harmonia. Rivista italiana di musica (Rome, 1913-1914)
Théâtres et concerts (Paris, 1916-1917)
Musica: Album-Revista Musical (Madrid, 1917)
Muziekwarande (Brussels, 1922-1931)
Musike Zoe (Athens, 1930-1931)
RIPM ONLINE ARCHIVE OF MUSIC PERIODICALS (Full-Text)
Allgemeine musikalische Zeitung (Leipzig, 1798-1823)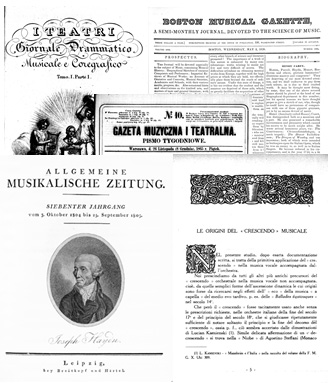 I Teatri (Milan, 1827-1831)
Boston Musical Gazette (Boston, 1838-1839)
Gazeta Muzyczna i Teatralna (Warsaw, 1865-1866)
La Cultura musicale (Bologna, 1922-1923)
Search the 100+ music periodicals in the RIPM Online Archive (Full-Text) today!