Many Latter-day Saints and other employees at LDS libraries have gone through various MLS programs across the United States. Below we have posted some of their experiences. If you would like to have your story appear on this site, please follow the link at the bottom of the page.
Roger Layton
I earned my MLS (MLIS) through the University of Alabama (May 2009). They have a well established library school on campus and they had recently added a distance education program. Their program is synchronized, that is everyone in the class logs into an online classroom at the same time as the professor. The courses are live and interactive. They described it as going to a regular class with the lights out, and it was. The program is geared for working people and is usually completed in two years. A few people complete it faster by taking more that the usual two courses per semester. This is possible if you don't have a day job. Some people take longer, enrolling in only one class at a time to limit their workload.
The Alabama program is a lot of work but enjoyable. Their attitude is based on the fact that they can choose who they want so once you are accepted they do everything they can to make sure you succeed. I liked the live interaction of the program. Students go to Tuscaloosa for a few days at the beginning of the program for an orientation session and then they meet online for the rest of the program. I worked with students from Oregon to Massachusetts. Often we would organize into study groups by time zone.
Before starting the program I knew it would take a lot of my time. Alabama is a good program for people who work in the day and have time for school at night, but it is a serious graduate program so I didn't have a lot of free time. There were a couple of semesters that were very hard and required more research during the week than regular courses. Other semesters the courses were more project based or were on topics that I found more interesting. I think that is true of any program. Two important things to consider: the Alabama program is accredited by the ALA and it is more affordable than many.
If I were starting the program today I would do a little more to stay in contact with my advisor, though everyone in the SLIS office is helpful that I found answers to questions quickly. I would also pay more attention to the SLIS listserve earlier, as it is a part of the Alabama community I continue to enjoy.
Now that I have earned the degree I can apply for positions that require an MLS. My interests lie in the area of Special Collections and those jobs require an MLS as well as other experiences.
If you are interested in learning more about the Alabama program please feel free to contact me. My phone number is 801-422-6687, e-mail roger_layton@byu.edu, and my office is room 2076 HBLL. I recommend visiting the Alabama SLIS web site http://www.slis.ua.edu. If you want to know more they are happy to have interested people contact them. That is how I started.
School of Library and Information Studies
513 Gorgas Library
Box 870252
Tuscaloosa, AL 35487-0252
Voice: 205-348-4610
Fax: 205-348-3746
Email: info@slis.ua.edu
Jared Howland
I attended the University of North Texas program. The University of North Texas MLS program offers many options for obtaining your MLS. I chose the online option. There are two times throughout the program that require face-to-face meetings with your classes for about four days each time. At the time I was working on my degree, these meetings were only available in a few locations throughout the country so I went to Texas, where I'm from originally, for those two meetings. They now offer cohorts in Las Vegas and I believe one is even starting in Utah now.
The thing I most enjoyed about my program was being able to do work on my own schedule. There were more structured deadlines built into the course than what is offered at a BYU Independent Study course but there were no scheduled class periods for my program. This allowed me to work full time, have time for my family and church and still finish my work when it was convenient for me.
I applied for several library jobs before receiving my MLS and there were a few where I was not even considered for the position because I did not yet have my MLS. Lots of job opportunities in academic libraries were opened up to me because of my MLS. I started my MLS program in 2003, right after my undergraduate program, and finished in 2005. I could have potentially finished in about a year but I was also working full time at the time.
The best way to contact me is via email: jared_howland@byu.edu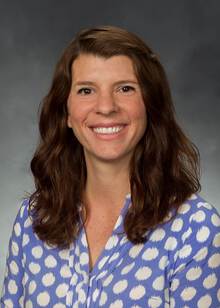 Meg Frost
As a subject librarian, my role is to support the research needs of students and faculty within a specific field. I work the College of Life Sciences. Acquiring an MLS was a necessary requirement for my position here at BYU and is for subject librarians at most universities throughout the country.  I received my MLS degree from the University of North Texas in 2014.  I chose this particular university because it provided online program that could be completed on my own schedule. This was important to me because I needed to balance it with work and my family time.
Some of the pros of the program I chose: Apart from two weekend sessions in Orem, I was able to do all of the coursework online and at my own pace. In general, I did not feel like the course work was overly rigorous, but it was often time consuming. I'd really suggest taking advantage of the option that allows a professor to mentor a student in a project in lieu of an elective credit. This is a great opportunity that can let students turn a task they are already doing at work into school credit…and save personal time.
Also, UNT does not require a thesis. Instead there is series of required essays. Although it meant a few stressful days at the end of the program, this assignment was definitely a preferable alternative to a thesis.
On the flip side, because so much of the coursework at UNT is online. it is easy to feel unconnected and unsupported by the faculty, advisors and other students. This is a real problem with online coursework in general, but was particularly difficult for me when I needed to rearrange my graduation plan. I really suggest making every effort to build a relationship with advisors and instructors.  Also, because there are not enough students in the Utah area every year, out of state travel may be required for two weekends during the first year of the program.
Overall, I felt like the MLS degree was most valuable in helping me learn to use the academic literature in my own research and to help others with their research. It also gave me a broader understanding of the profession as whole.
The best way to contact me is via email: megan@byu.edu
Ryan Lee
I received my MLS from Indiana University-Bloomington in May 2006, emphasizing in Archives and Records Management. Although their Archives program is not very large, I was very happy with the whole SLIS program in general at IU. Their program has consistently ranked in the Top 10 library schools across the country for the last several years, and they have an excellent faculty and staff. Another positive thing about my experience at IU was just that: multiple opportunities to get relevant job experience in a variety of libraries or library-related places.
Because of my past experience at the Utah State University Archives, I looked for a job at the Indiana University Archives, and I had a great experience there. They had a small staff of 4, with a head University Archivist, two Assistant Archivists, and a Photo Curator. But thanks to a great library school and digital library program at IU, they were often on the leading edge for their region in terms of technologies or following standards and practices. I gained great experience there learning metadata encoding standards like EAD and TEI, which helped me tremendously in getting my current position of Metadata Specialist at the Church History Library in SLC. The head archivist, Phil Bantin, is a leader and expert in the field of Electronic Records and is a fellow of the Society of American Archivists based on this expertise. He was a great mentor for me, as was the rest of his staff and the IU Archives. I was even lucky enough to work on their staff for 2 years after graduation to gain even more priceless experience.
Another great opportunity I had at IU was working at the Lilly Library, IU's Special Collections Library, with a world-renowned collection and superb staff with ample years of experience in this field. I took courses from some of the staff where I learned how to put up exhibits, process manuscript collections, and encode EAD finding aids for a variety of different types of archival collections.
Currently there are several online MLS programs for much less money that did not exist when I applied for graduate school. I am definitely going to be paying off student loans for a long time to come because of my decision to go to Indiana University. But I cannot emphasize enough the priceless nature of the experience I was able to receive there. I cannot replace that, and I know it has been the key to my success in securing the jobs I have. If I were to tell any bit of advice to an up-and-coming MLS student, it would be: Get as much experience as you can while at school. The jobs may not pay the best, but it will be worth it in the end. And, the more experience in digital technologies and metadata standards, the better. It seems like many people are looking for folks with experience in these areas more and more, and MLS students need to have these skills coming out of graduate school to compete.
Ryan Lee
ryan_lee@byu.edu